Norden Farm Cottage is ideally situated for using public transport, with bus stops at the site entrance and the steam railway just a short walk away.
We are situated just off the A351 between Wareham and Corfe Castle. 
By Road: Plan your route to Wareham and once there, follow signs to Corfe Castle/Swanage (A351). We are about 3.5 miles from Wareham; our entrance is well signposted on the right-hand side. 
Once turning into our driveway, please continue straight through the farmyard and campsite where you will find the cottage straight in front of you. Please feel free to pop into the farm shop to ask for directions. 
By Train/Coach: Both trains and coaches stop at Wareham; from there you will need to catch a bus (No.40) for Corfe Castle/ Swanage. We have a request stop at the end of our driveway. Check with the local bus company for an up-to-date timetable. They usually run every hour (daytime only) during the summer months.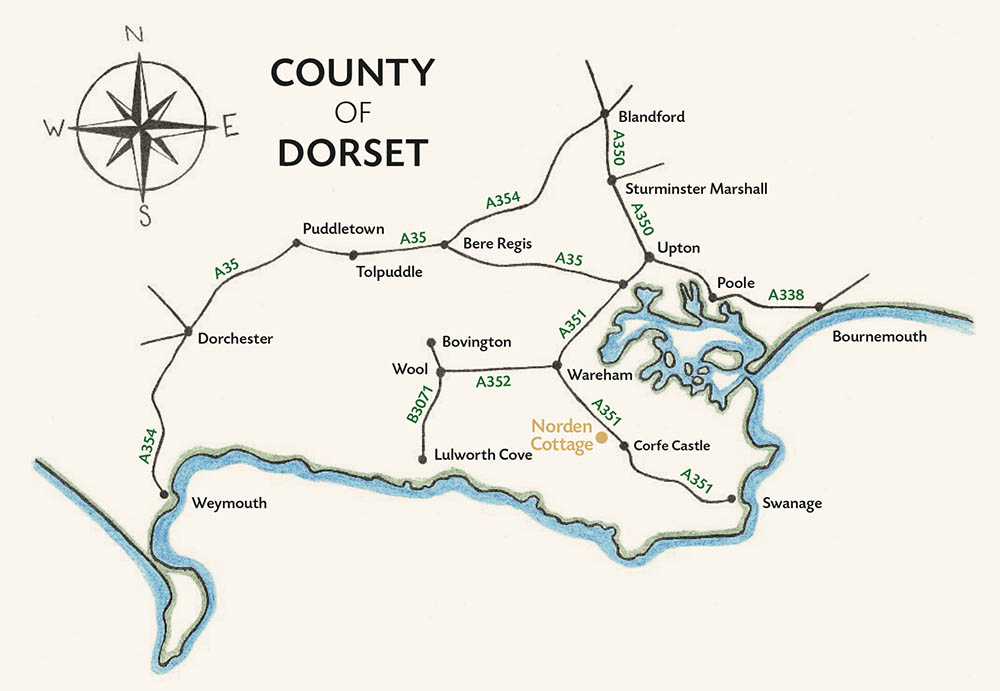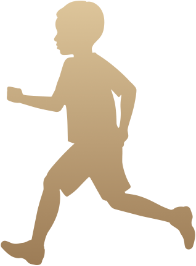 See just a few of the better-known attractions that our area has to offer. There are many more for you to discover for yourselves.
You don't have to travel far to experience some great days out and stunning Dorset landscapes. The campsite is perfectly located to visit these gems – and they're all within walking distance!
Norden Railway Station is just a 5-minute walk from the campsite entrance, and visitors feel transported back in time when they step onto the platform to see the steam locomotives. Why not hop on and travel in style to Corfe or Swanage too? If you fancy staying local, just pop next door to the Mining Museum. With free admission, what better excuse to learn about the rich history of the area?
If trains aren't your thing, there's still plenty to see and do, all on the campsite's doorstep. If you're into hiking, head to Heartland Moor Nature Reserve. This vast landscape provides a tranquil oasis perfect for exploring, and is the inspiration for Thomas Hardy's Egdon Heath! For some truly breath-taking views, campers at Norden Farm are granted access from the site to the Purbeck Ridgeway. Scaling the hill may be a task, but the sights of Poole Harbour and surrounding countryside are definitely worth it!
If you'd prefer a more leisurely tour of the area, head to Cyclexperience to hire a bike and take in the sights on two wheels! Campers at Norden get a 10% discount at Cyclexperience with a secret code- please ask a member of staff for details.
After a long day exploring the finest that Norden has to offer, take refuge at The Halfway Inn. This beautiful 16th Century thatched pub is a rural gem, offering delicious meals and the best Dorset ales on tap. Get 10% off at this glorious pub when staying at Norden Farm- please ask a member of staff for details.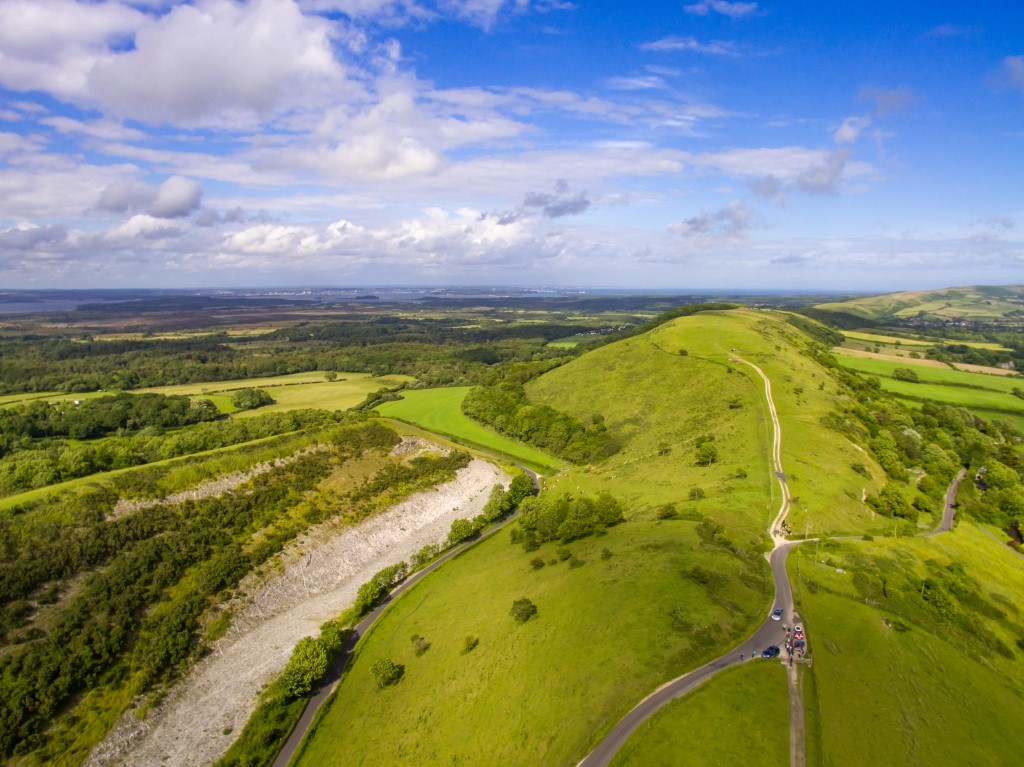 Corfe Castle is easily accessible from Norden Farm and a footpath from the site entrance will take you directly to the heart of the village.
Here you will find two unique art galleries along with several quirky shops and the village bakery. Of course, you can also see the castle ruins and learn about the rich history of the area, or feel like a giant when you step into the model village! To find out more about the local area, a trip to the Mineral & Mining Museum should do the trick.
To let off some steam, head to Dorset Adventure park, where you'll find two lakes of inflatable obstacles and a 2km mud trail. For something really steamy, why not visit Corfe Castle Railway Station and take in the sights and sounds of genuine steam locomotives!
For some refreshments after an action-packed day of exploring, head to one of the four pubs, all serving delicious traditional food and a selection of local ales. If you're looking for something different, the village has a small host of cafes all offering gluten free and vegan options, as well as the fabulously British cream tea!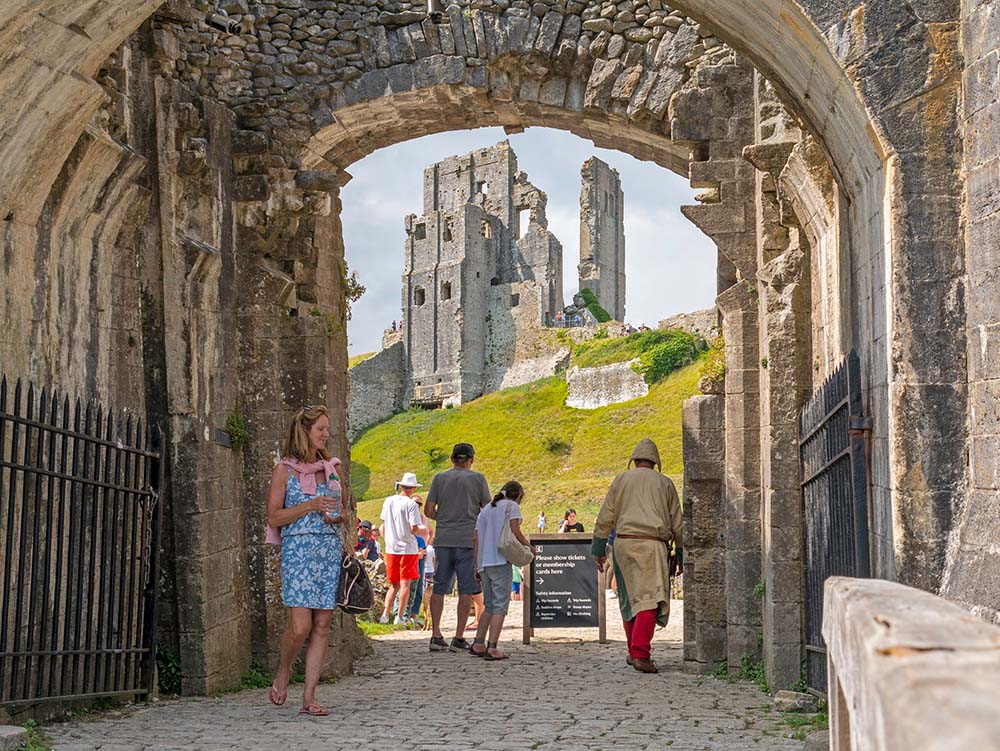 Catch the bus from just outside Norden's entrance for a short, scenic ride to the picturesque town of Swanage. What used to be a small fishing village has expanded over centuries to become the perfect seaside town for families to explore.
Swanage is the perfect place for some retail therapy; the streets are lined with a range of high street brands and local independent shops for you to dip in and out of. You'll also find plenty of cafes with a great selection of local homemade treats to enjoy, along with traditional pubs and several restaurants serving freshly-caught seafood from the bay.
There are also plenty of activities for youngsters to get stuck into, why not try your hand at crazy golf, crabbing off the stone quay, or testing your luck in the seafront arcade? On the outskirts of town (still on the main bus route), you'll find Putlake Adventure Farm with a whole host of activities and farm animals. There's an indoor soft play area too, so it's great for a rainy day.
Historical points of interest include the pier and Swanage Railway- you can also visit the heritage museum for free! For those wanting to take in the gorgeous views of the Jurassic Coast, hike along the South West Coastal Path to Peveril Point, Tilly Whim caves or Dancing Ledge.
At the far end of Swanage, you will discover Durlston Country Park. This idyllic spot is home to Durlston Castle, the Jurassic Coast Visitor Centre, and a café overlooking Durlston and Swanage Bay. The cliffs and grassland make Durlston one of the best places in Britain for wildlife and bird spotting – if you're lucky you'll spot a puffin or dolphin!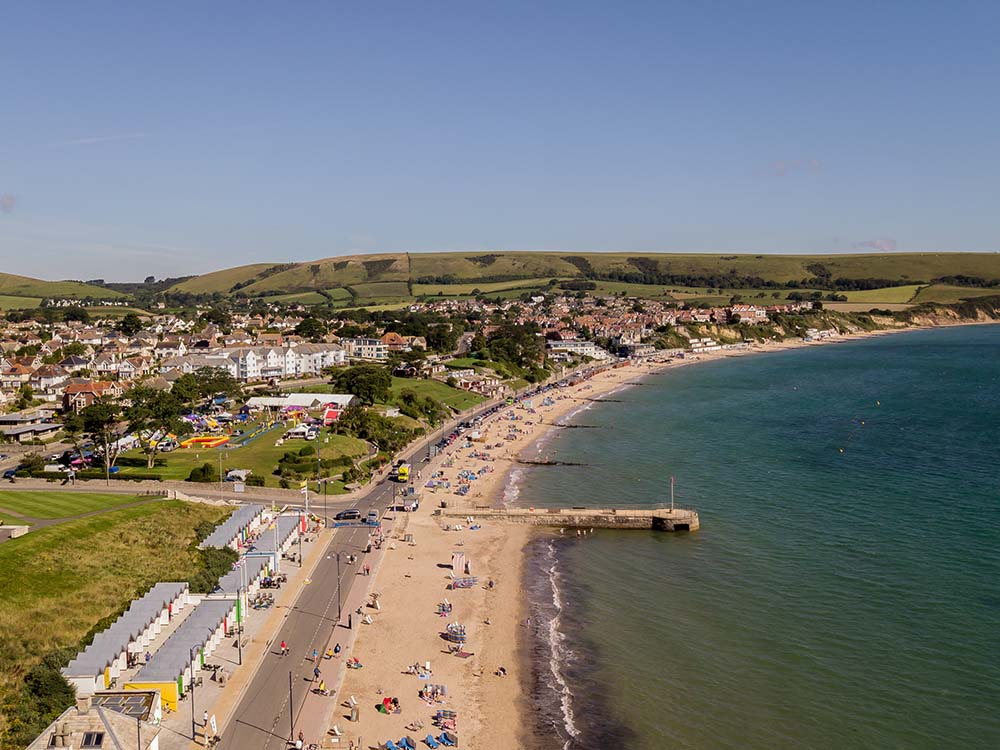 The historic market town of Wareham can be easily reached in 10 minutes by bus from Norden.
Dating back to Saxon times, Wareham has a rich history that can be delved into at the town museum. Structures from this time include the fascinating ancient church and old town walls which are free to explore!
For those wanting a more modern experience, Wareham's high street is full of quirky shops and galleries, there's also a retro cinema, and the quay hosts a bustling farmer's market every Saturday. Of course, you should also expect to find several pubs, all serving traditional hearty meals and a fine selection of local ales, gins and wines to enjoy.
Nestled alongside the River Frome, visitors can enjoy steam boat rides to Poole Harbour, or hire out paddleboards, row boats and kayaks to create their own adventures.
Wareham Forest is a short drive from the town centre and is one of the best locations in the area for hiking and wildlife spotting- keep your eyes peeled for majestic deer and illusive sand lizards. With a balance between flat heathland and dense hilly woodland it is also ideal for off-road cycling, and cycle hire is available from the Sika Trail café!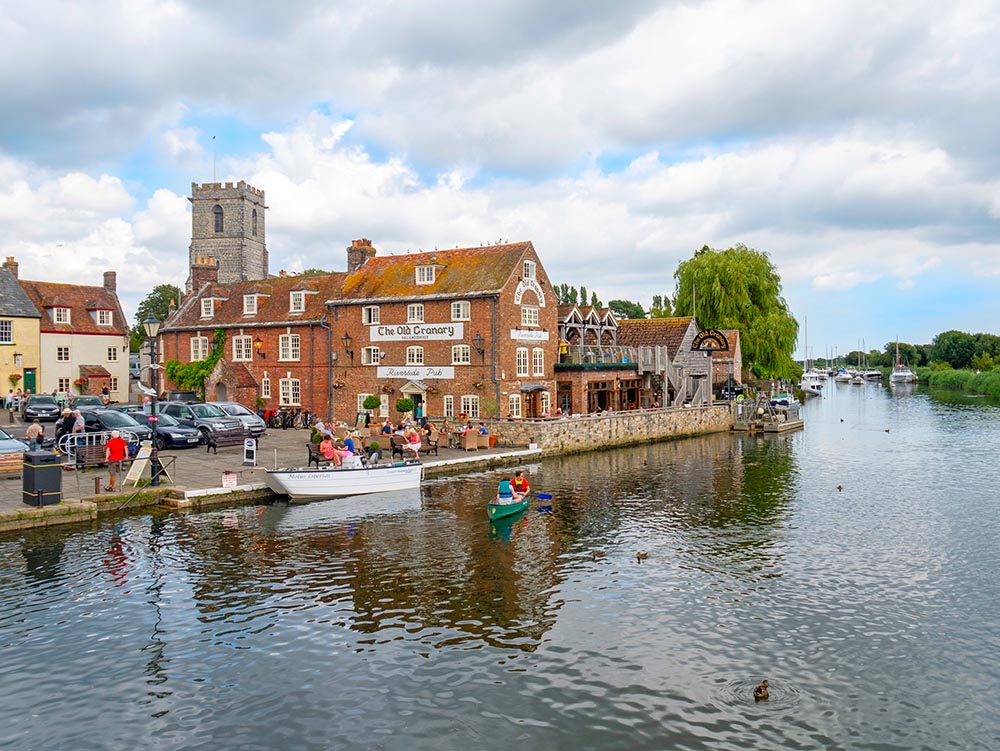 Norden is conveniently located 15 minutes away from the village of Studland and is easily reached by a drive through the picturesque countryside.
Studland is an idyllic corner of the Jurassic Coast. With fabulous beaches, coastal areas and a national nature reserve, it is the perfect location for wildlife and landmark spotting. The nature reserve is home to a whole host of rare breeds, including all six native reptile species, and enchanting seahorses have often been spotted in the bay.
There's nothing like a breath of fresh sea air, and Studland beaches are excellent for all-round family fun. The four miles of golden sands are ideal for beach volleyball and water sports, and offer breath-taking views of Poole Harbour and Old Harry Rocks.
Why not visit the 'man' himself and follow the coastal path to Handfast point where you can get up close to the spectacular chalk stacks known as Old Harry Rocks? Other walks from the village include a trail to the legendary Agglestone Rock – on your way you'll be blown away by the vast landscape of Poole Harbour. Historians may also like to visit the WWII Fort Henry bunker that King George VI, Churchill and Eisenhower visited in 1944.
After exploring the coastline, head back into the village to enjoy a locally-sourced traditional dinner at one of the pubs. With beer gardens overlooking the bay, what better excuse for a pint after a long day discovering the South Coast!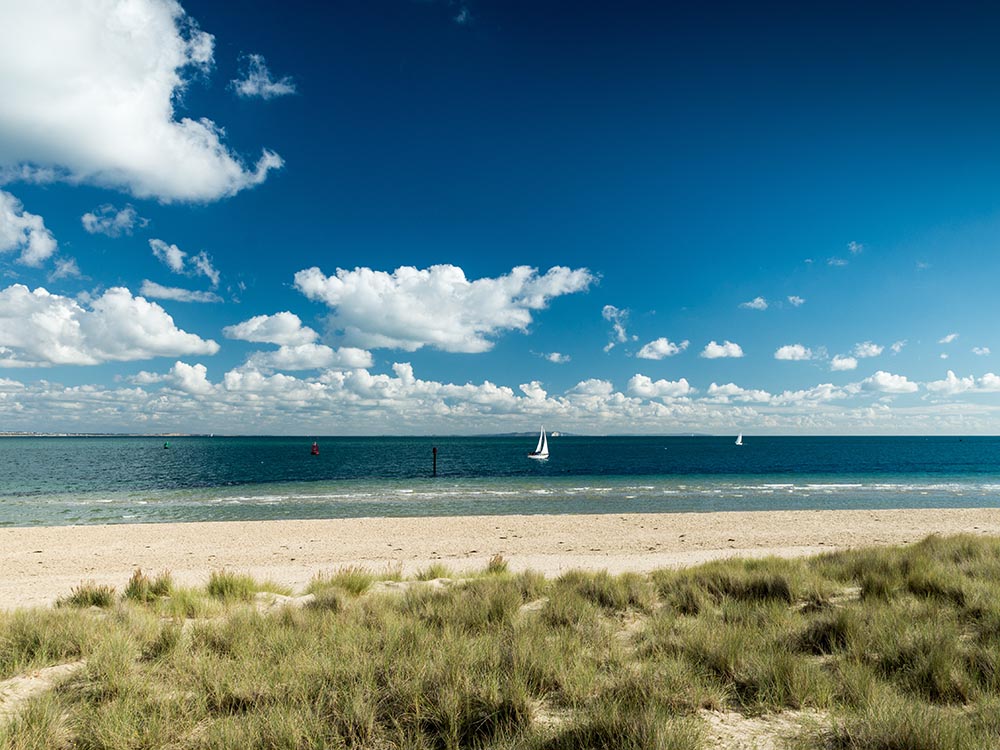 Just a few stops away on the railway line, Bournemouth is easy to reach by train from Wareham Station, or in 40 minutes by road. 
Voted the best beach in the UK on Trip Advisor, the seven mile stretch of Blue Flag beaches are the perfect backdrop for a wonderful day out. Sun yourself on the golden sands with an ice cream in hand, or take a stroll down the prom and choose a delightful sea-front café to enjoy a coffee with a view.
Head to the grand pier for some good old-fashioned arcade fun, or let loose in the indoor high-climb activity centre. Have yourself a pit-stop at the pier bar and then zip-line back to shore if you're feeling brave!
Stroll into town through the charming Victorian gardens – perhaps you'll stop off for an air balloon ride to see the harbour, or a matinee performance at the theatre! The Oceanarium and cinema are perfect for a rainy day too.
The streets are bursting with high street and independent stores for you to indulge in, and whether you fancy something exotic or some traditional fish and chips, you'll find a restaurant for everyone in Bournemouth – even the fussy eaters!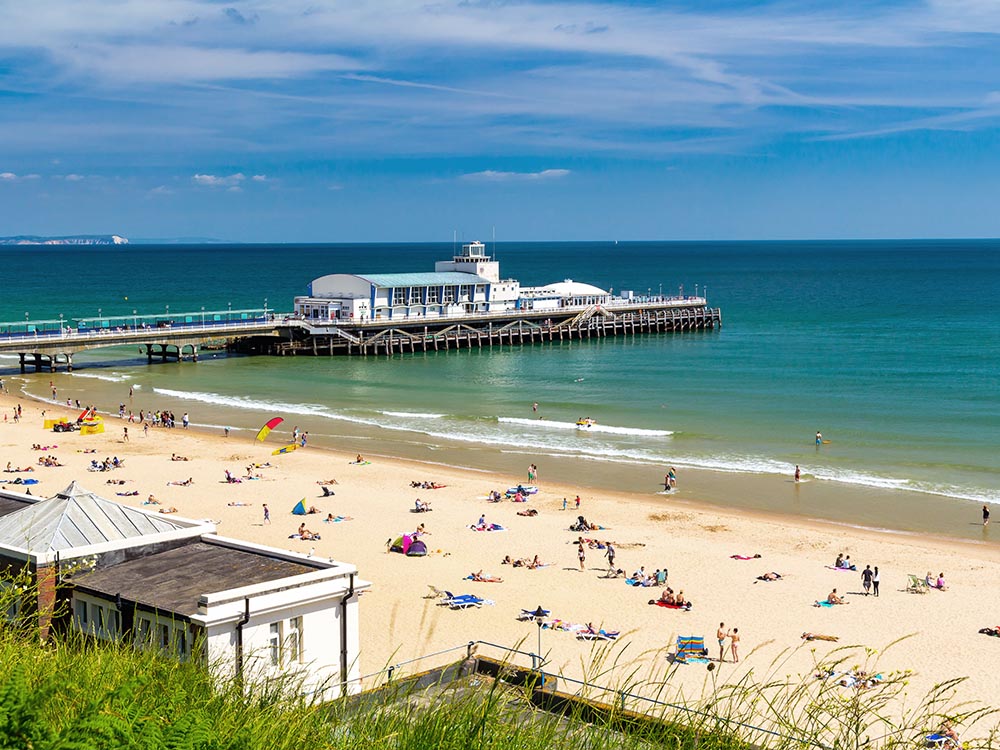 With a rich history spanning back 185 million years, the Jurassic Coast is an outstandingly beautiful and diverse part of the world. Whether you want to hunt for fossils, visit a museum, or simply take in the unique scenery, there's plenty to do, with the closest points just a 15-minute drive away from Norden Farm!
The highlights include Kimmeridge Bay, and this is a spectacular place to go rockpooling, fossil hunting, snorkelling and diving. Kimmeridge is also home to a marine centre, which features interactive displays of the marine and wildlife you should expect to see in the bay. In the village of Kimmeridge, you will also find The Etches Collection, which is a fabulous museum exhibiting fossils from 157 million years ago!
Another fantastic feature of the Jurassic Coast is Lulworth Cove. This cove is a great place for a traditional beach day, or something more adventurous like coasteering or mountain biking. Not far from Durdle Door, there is a great coastal walk that joins the two and it is definitely worth the hike to see the world-famous arch! After the steep walk, head back into Lulworth for some refreshments at one of the pubs, or pop into the Visitor Centre to learn about the geology that created this spectacular part of the Jurassic Coast. 
There are so many more breath-taking spots along this 95-mile stretch for you to discover and explore for yourselves.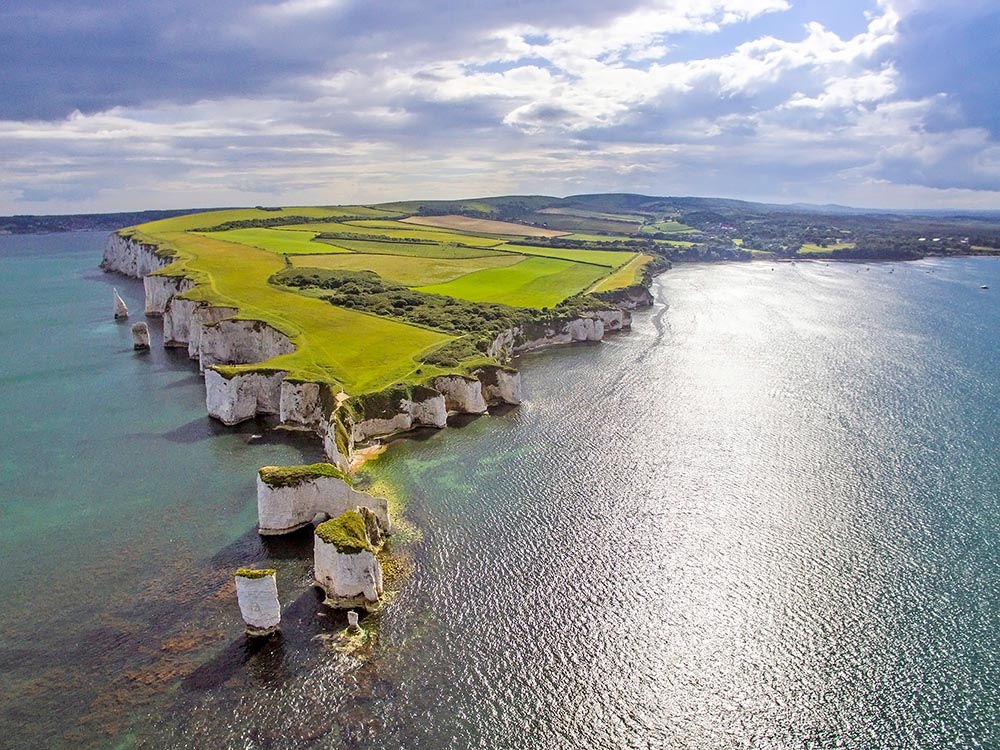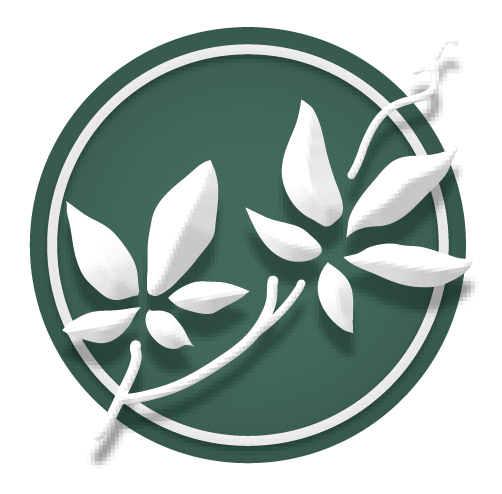 Norden House is a Georgian Farmhouse newly refurbished into a beautiful self-catering letting house to comfortably sleep fourteen, and set within its own grounds overlooking the ruins of Corfe Castle in Dorset.
Get a feel for kind of holiday you'll enjoy when staying at Norden Cottage. Our 3 minute video tour of the Cottage and surrounding Dorset countryside is an ideal way to get in the holiday mood.





"I loved the setting, the animals, the walk to Corfe the Half Way Inn just up road, all very special."
Just one of the many 5 star reviews on Trip Advisor